Over at The Order of the Opus Gluei the Poobahs of Luscious Glued-ness have asked us to create something based on our interpretation of the dog days of summer. Now in case you noticed the 1998 date on this LO, let me tell you that my ex-husband (who has mellowed considerably over the years) kindly let me scan some of his photos of the "old days". So that's what I've been working on. This particular one was taken on a camping trip that I and my best friend, along with our two girls (BFF) took to the "Seashore" sans the EX. But it's in my pile of "old" photos. Since summer has decided to pass us by in the region where I live, I think this memory will have to suffice. And a good memory it is.
It's Tuesday, so I'm partying with these kind folks: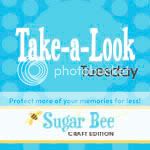 Be forewarned, there are a GAZILLION crafters who join these parties!!